Strada in Chianti
All about the small town of Strada in Chianti, Tuscany, Italy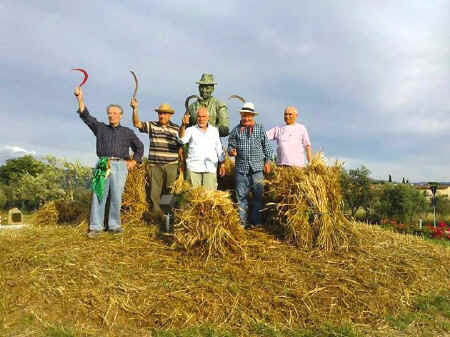 Click here for vacation accommodation in Strada in Chianti.
1st of May at Strada in Chianti

Market booths, farm-style cookery, live painting, concert at the sports arena, competitions
1 May 2017

Primo Maggio a Strada in Chianti

Mercatino, cucina della civiltą contadina, estemporanea di pittura, concerto all'anfiteatro, giostre
1 maggio 2017

Church of San Cristoforo at Strada in Chianti
Strada celebrates

The ancient fair of Strada in Chianti relives the local traditions with two days
of music, spectacles, market booths, games and enogastronomia
September 2017

Strada in fiera

Dall'antica fiera di Strada in Chianti rinasce la tradizione con due giornate di musica, spettacolo, mercatini, giochi ed enogastronomia
settembre 2017

"AVIS in Piazza"

Music, dancing, theatrical spectacles and projection
Piazza Landi
July 2017

"AVIS in Piazza"
Musica, ballo, spettacolo teatrale e proiezioni Piazza Landi
luglio 2017

Vacation accommodations near Strada in Chianti - farmhouse
apartments and rooms at San Polo and Chiocchio

For more vacation rental apartments near Strada in Chianti - stay on a vineyard - it costs less than a hotel
and is infinitely better fun. Check Greve in Chianti for places to stay in Tuscany.
Strada in Chianti © ammonet InfoTech 2008 - 2017. All rights reserved.