Strada in Chianti tourist information
All about the small town of Strada in Chianti, Tuscany, Italy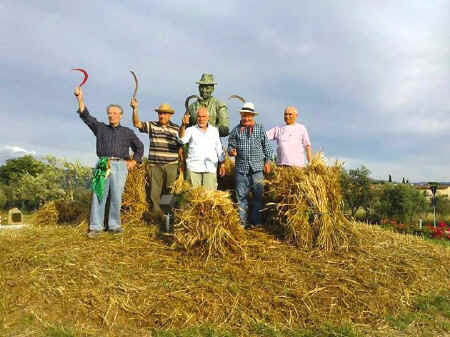 Strada in Chianti is a hamlet of the municipality of Greve in Chianti, in the province of Florence, Tuscany.

Strada in Chianti is the nearest village to Florence in the whole municipality of Greve. Strada has seen considerable development in recent years, with a notable population increase due to its proximity to the Florence. Strada lies at about 300 m above sea level and consequently has a very favourable climate, even in the hottest months, compared to the Florentine plain. The town fair takes place on the third Sunday of September every year.

Strada takes its name from "via strata", referring to a paved road. According to some historians, this alludes to a paved stretch of the Via Cassia, dating from the Claudian era (approximately 200 AD). Until the end of the 19 C, it was possible to see part of this pavement in one of three courtyards of Longobard origin.

In the church dedicated to St Christopher, there is a beautiful wooden crucifix made of olive wood and decorated by Neri di Bicci (circa 1440). Recent restoration of the church showed that the original apse under the present altar dates from before the year 1000. It seems that the Longobards, then established in the town with a number of hospitals (in the present hamlet), built the church on the ruins of a small Etruscan fort or fortified house.
Click here for vacation accommodation in Strada in Chianti.
1st of May at Strada in Chianti

Market booths, farm-style cookery, live painting, concert at the sports arena, competitions
1 May 2020

Primo Maggio a Strada in Chianti

Mercatino, cucina della civiltą contadina, estemporanea di pittura, concerto all'anfiteatro, giostre
1 maggio 2020

Church of San Cristoforo at Strada in Chianti
Strada celebrates

The ancient fair of Strada in Chianti relives the local traditions with two days
of music, spectacles, market booths, games and enogastronomia
16 September 2020

Strada in fiera

Dall'antica fiera di Strada in Chianti rinasce la tradizione con due giornate di musica, spettacolo, mercatini, giochi ed enogastronomia
16 settembre 2020

"AVIS in Piazza"

Music, dancing, theatrical spectacles and projection
Piazza Landi
July 2020

"AVIS in Piazza"

Musica, ballo, spettacolo teatrale e proiezioni Piazza Landi
luglio 2020

For more vacation rental apartments near Strada in Chianti - stay on a vineyard - it costs less than a hotel
and is infinitely better fun. Check Greve in Chianti for places to stay in Tuscany.
Strada in Chianti © ammonet InfoTech 2008 - 2020. All rights reserved.